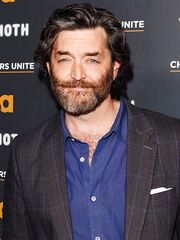 Timothy Omundson stars as King Richard on ABC's Galavant.
Biography
Timothy Omundson recently starred as Detective Carlton Lassiter in the USA Network original series "Psych," which aired for eight seasons.
Omundson was raised in Seattle where he joined The Seattle Children's Theatre when he was 12 years old. With acting as his main focus, Omundson interned at theatres throughout high school and spent the summer of his junior year in New York at the American Academy of Dramatic Arts. He also held the honor of being Washington State Debate Champion in Dramatic Interpretation for two years.
While earning a Bachelor of Fine Arts in Theatre from the University of Southern California, Omundson received the Jack Nicholson and James A. Doolittle awards for outstanding achievements in acting. His professional career began when Larry David, creator of "Seinfeld," gave him his SAG card on an episode of the hit show.
In television, Omundson co-starred opposite Emmy and Tony winner Tyne Daly for six seasons on "Judging Amy." His additional credits include lead and recurring roles on Stephen Chbosky's "Jericho," "Medicine Ball," Disney's "The Luck of the Irish," "SeaQuest DSV," "Jack & Jill" with Amanda Peet and Jaime Pressly, "Fired Up," the international cult hit "Xena: Warrior Princess," and the critically acclaimed "Nip/Tuck" and "Deadwood" among others. He also made appearances on shows such as on "Supernatural," "CSI: Crime Scene Investigation," "CSI: Miami," "24," "Boston Legal," "Without a Trace," and "The O.C."
Omundson's film credits include "Down with Love" for director Peyton Reed, "Swordfish" alongside John Travolta, Hugh Jackman and Halle Berry, "Starship Troopers" for director Paul Verhoeven, "Hardpill," and "25 Hill."
Theater roles include turns as Iago in "Othello," Faustus in "Dr. Faustus," Valmont in "Les Liaisons Dangereuses," and Newman Noggs in "Nicholas Nickleby."
Omundson resides in Los Angeles.