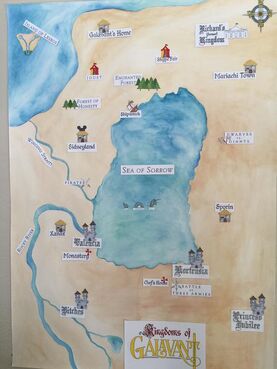 Kingdoms of Galavant is the name used for collect group of kingdoms in which the series Galavant takes place, it's real name (if it has one) is unknown. The map itself was released in a tweet by Dan Fogelman.
Kingdoms
Villages
Mariachi Town
Sporin
Xanax's home
Battles
Dwarves vs Giants
Battle of the three armies
Miscellaneous
Island of Lesbos
Forest of Coincidence
Spinster Island
Forest of Honesty
Rocky River
Sea of Sorrow
Shoppe Fair
Chef's House
Monastery (of the singing monks)
Community content is available under
CC-BY-SA
unless otherwise noted.