"So happy you came! I built a room just for you my perfect pretty princess!"
—Prince Harry, "It's All in the Executions"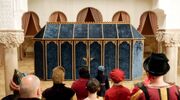 Isabella's room is an oblong octagonal structure which Prince Harry of Hortensia had built for his cousin and fiancée Princess Isabella of Valencia. It was essentially a life-size dollhouse meant to house and display Harry's new "toy". The entrance is two large sliding doors which form a wall of the room and is secured by a lock which Harry has a key to. For further security, guards are posted outside of the room. The inside of the room has a plush interior and is furnished with an oyster shaped bed, a vanity with a jeweled crown and a mannequin displaying Isabella's wedding dress. There is only one window which has a view of a castle window which looks out onto the sea. It's first appearance was in the episode "It's All in the Executions"